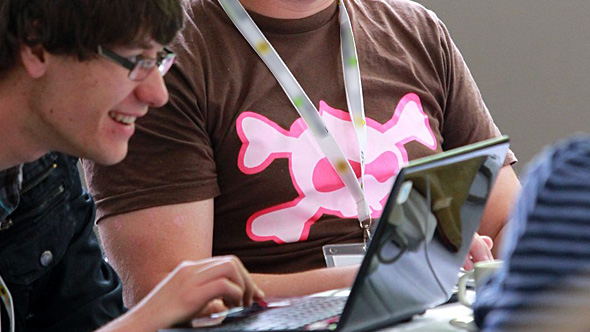 With Drupal being one of the world's leading open-source projects, code sprints are an opportunity for anyone to pitch in and help make Drupal better, whether it's by writing code, reviewing patches, developing new modules and themes, or helping improve content and documentation on the Drupal.org website.
Given that DrupalCon Sydney will be happening in the middle of the Drupal 8 feature freeze, we're expecting the code sprint will be one of the key focal points in the Drupal 8 development cycle.
For anyone new to code sprints, we're excited to have the "Get Involved with Core Sprint" being run as an introduction to contributing.
Get Involved with Core Sprint
The ninth Get Involved with Core sprint will be held on Saturday 9th February from 9:00 to 5:00 at DrupalCon Sydney. Previous sprints were held at DrupalCon Munich, Denver and several North American Drupal events. Not sure how to get started or is it your first time contributing? Come to the Community Tools Workshop on Saturday morning to get up and running with the basic tools that the Drupal community uses to tackle problems together.
Why come
If you're like most Drupal developers, you've been telling yourself for months that you should start contributing to Drupal core. This sprint is your chance to get started with in-person training and mentoring from friendly, experienced core contributors. If you've already started to work on core, come meet other contributors, hang out in person, and work on manageable tasks in the Drupal core queue. The goal is to help you help with core.
Who it's for
Anyone with Drupal site building experience can contribute to Drupal core. We'll have tasks suitable for programmers and non-programmers alike.
What to expect
We'll kick things off with a brief introduction, and then will help match people with issues that are right for their skill levels and areas of interest. Free training is also provided to help new contributors set up a development environment and learn about the contribution process.
What to bring
An interest in Drupal contribution
A laptop with a Drupal 8 development environment
How to get set up
Don't have your development environment yet? No problem! Come to the coders lounge to get help setting up by experienced volunteers.
You're also encouraged to set up your development environment on your own if you prefer. Here's what you'll need:
A local web server. Some options:
A code-friendly text editor. (Sublime Text 2 is a free, cross-platform text editor.)
Also recommended:
Who you'll meet
Sprint leads
Sprint mentors
Trainers
Core and Contrib Sprints
Based on the current list of responses to the registration form there will be sprints on the following:
Drupal 8: Twig - lead: Jen Lampton jenlampton
Drupal 8: Mobile Initiative - lead: John Albin Wilkins JohnAlbin
Drupal 8: Blocks & Layouts Everywhere Initiative - SCOTCH
Drupal 8: Config Management Initiative
Drupal 8: Views in Core Initiative
Documentation
Jess (xjm) will be organising the sprints on the day, and so please come along and help make Drupal better!